So, as a Baby Boomer and a not so tech edgy Realtor and a freelance writer, I'm always looking for knowledge from the smart kids. 

Millennial types in Google ranking mode where blogging is king, and taking the time to actually write about your field of expertise gets you in that magic Google zone.

That's when you gain credibility as, say, a St Pete Real Estate Expert.

You gotta write and produce new content on the regular if you ever want an audience.

So my go-to guy this week, Bobby P. from RE/MAX Metro Tech, was totally excited about the fact I was published in the Northeast Journal after I wrote about an invasion 
of beautiful Murals into our Northeast corridor.

'Write about writing that,' he said.

'What?'

Tell them how that piece ended up on the January/February edition of the Northeast Journal?

'Nobody knows how you did that, it's interesting.  You can do another boring market update along with 50 other Realtors next week.'

Hmmmm.   

So OK, this is how it went down:

I have a degree in Journalism from Colorado State University.  Not exactly Columbia. Point is I've written my whole life.  First ever Sports Editor of the Vail Daily.  
CSU Collegian Political writer.  Magazines, features, restaurant reviews, professional sports (Lightning, Bucs, Rays) for the Bradenton Herald and Associated Press. 
You give me a by-line, I'll do my best.

The NE Journal ran a small ad.  Something like, 'If you think you can write and want to write for us, here's our number.  We'll let you know'

Eventually Janan, the editor took a chance and talked to me about all the new Murals in the Northeast Corridor.  Gave me a couple of names and numbers in the St Pete art world, including 
established artists.  Artists?  FFrench-speaking goaltenders and Dominican third basemen aren't real artsy. Much less an offensive guard with a sore knee.

So I start by driving around and holy crap, look at all this new stuff on 4th St and MLK.  It's, like, everywhere.  I take photos, leave messages for business owners with new murals, director of
the St Pete Arts Alliance, and, yes artists.  Start taking notes about who painted what, when, and descriptions of the amazing creativity of the pieces.

Oh, and I have four closings in the next two weeks with a bunch of disjointed buyers, sellers and cranky agents.

I'm in Odessa selling a horse farm thinking about 67-year old artist Tom Stovall and his genius work on the Crescent Lake Water Tower, the Tarpon on Bob Lee's wall and monstrous water 
treatment plants he painted by hand. He was a Broadway Ballet Dancer, Actor, Screen Actors Guild 50+ year guy and now all this magic in St Pete.

I'm on a private dirt road using Waze surrounded by paddocks and the curious horses wonder who this silly city dude on his cell phone is. Also wouldn't be opposed to some carrots and apples, 
they snort.

I've got Tums and Advil.

Now I'm overwhelmed, but my deadline is still two weeks out.

Return calls coming in, quotes from Art Directors, artists, business owners. Holy crap.  TMI.  I've only got 800 words and I have enough info to fill a horribly disorganized novel.
Forget about downtown and the 500 murals.  This is just the corridor, thank goodness. Sleep is fleeting.  Waking up every half hour to write a few descriptive, brilliant notes for the morning.  
Again and again. Look at my ideas as caffeine awakens.

Who wrote this jibberish?  Surely not me.......

I need Odessa to close........

Now I've got my notes, my lead is written, and it's time to sit in a dark room, not answer my phone and write a draft.  Re-read, re-write, repeat. Coming together......

Odessa appraisal came in $30K low. Falling apart. 

Finally, after five re-writes and fact-checking (and closings) I submit. 'Gary, good job.  Now I must tell you I've got to make some changes to meet the Journal's writing guidelines.
She sends them back, knowing some writers are ticking time bombs and so sensitive to re-writes and criticism their editorial space may just sit empty.

Actually, she made it better, cleaner, helped with information and I'm cool with it.

Everything closed.

It's published, and she wants another story.

I'm all in.

So, that's how it all went down............ Easy as one two three.
New Restaurant Review – Patanegra
 My foodie friend/conspirator, Cat B., and I wanted something new and hispanic in downtown St Pete on Cinco De Mayo, and honestly didn't want to be flushed out with maniacal celebrations at one of the local Mexican places. ­We took a chance on a new tapas joint, Patanegras, at 200 Central Ave, in the outdoor patio of the Bank of America building.­It was a beautiful evening, with lots of folks walking the streets looking like Panco Villa goes Urban Cool sporting sombreros and paper mustaches and enjoying what downtown St Pete has morphed into;­a fun, cool place. ­
---
­
---
Patanegra features tapas, or small plates, and we shared several little bites that rarely disappointed.­­In true Food Geek mode, we eached pre-picked out a salad and five tapas from the dinner menu, wrote them down, then exchanged our lists and laughed that only the Patanegra Salad matched.­To our credit, the menu is flush with options so not that surprising.­It rocked, with charred Romaine heart wrapped in Serrano ham with Valdeon blue cheese, chorizo, veggies, roasted garlic and a dressing that allowed the ham and blue to shine.­Then directly into the Ceviche Sampler.­ Their take on the word 'generous' a bit different than ours, with a mini-platter of three servings of shrimp and fish marniated citrus sauces was uninspired. ­That stuff in different flavors had swam too long with the lime juice. ­At $16, a bad choice.
Our only bad choice as the Ablondigas (our server refused to call them meatballs, but they were damn good), Stuffed bacon wrapped dates filled with blue cheese over endive leaves and a side of Patatas Bravas all tasteful and unique. ­
---
­
---
The P Bravas (Food Geek, I told you) was fried, chopped potatoes in a nicely spiced tomato aioli sauce that was a portion too generous to finish.­Couple of margaritas and we were full, but sat for a bit to enjoy the mike'd up violinist's version of Spanish and Cuban music accompanied by a pretty young singer and some very happy diners. ­A very nice outdoor experience on a much-celebrated American/Mexican holiday we all seem to enjoy. ­
---
Price: ­$$
GaryRates: ­8 out of 10
Ambience/Service: ­10
Gulfport, Florida is a charming, eclectic, artsy little beach town on Boca Ciega Bay that makes you just take a deep breath and say, 'Ahhh.' ­It's timeless, like waking up in a Florida beach town in 1950.
No, I wasn't around then, hilarious reader.
It has wonderful art walks, small town parades, Tuesday morning markets, and oh so interesting people. ­Yes, the people. ­
Dead Heads and scalawags, old salty sailors and hip young artists and restaurateurs, bed and breakfasts, art shops and musicians singing for their supper, plus one of the strongest, most active sailing clubs in Florida.
Did I mention the restaurants­­­ ­Mexican, Italian, French, American Dive Bar, Fish House, Blue Crab served on what was once someone's back porch of their home.
You name it, you can find it here.
Along with its own beach and fishing pier and timeless Casino on the Bay, the sunsets and dogs and kids and sailboats and visionaries, this town yanks the sunset diners away from the glitz of downtown St Pete (which has morphed into South Beach in English on Old Tampa Bay). ­
O'Maddy's, an open air diner on the corner of fishing pier and Boca Ciega Bay, will certainly offer you fresh sashimi, steak or grouper among the many upscale menu items, and generally with a smaller price tag than St Pete's glamorous Beach Drive's offerings. ­Or you can opt for Dr. Randy Shuck's Hangover Burger, the Big John Sandwich (Rare roast beef), or Escargot with a side of Jenny's Truffled Parmesan Fries. ­Or build your own pizza. ­
Crazy, right­­­­
Eclectic­ Why, yes. ­Maddy's in Gulfport, here we go. ­This place mimics it's town, with live music, a big day bar crowd, pool tables, tourists, locals, St Petersburgers, rich and poor sharing beers at the bar, and excessive waterfront views.
We sat outside about 6:45 on a Thursday evening with some thunder clouds rumbling overhead, cooling the hot Florida summer evening. ­­For openers a cold beverage, and a management decision to go with a smattering of apps as opposed to soup, salad, cumbersome entree on a hot summer night. ­­
First we busted into smoked fish spread, served with crackers, onions, sweet relish and greek peppers and lots of hot sauce. ­Smokey, a bite of heat, and a cooling take back with the relish and carrots and cucumber. ­Nice!
Tempted by the usual seared diver's scallops and ahi sashimi, my Foodie/Realtor accomplice Cat (Burglar) took a left to Julie's Calamari Salad, with cold strips of sauteed squid tossed in an asian sauce and fresh spinach drizzled over a sesame ginger and wasabi aoli. ­Wow!
Blastoff. ­
My entree next time I get to this cool joint.
The band started up and honestly sounded like Janice Joplin with a hangover. ­I suggested she look into the Dr. Randy's Burger but got nothing. ­The hostess was nice enough to turn our remote dining area speakers down. ­
And the band played on.
Cat said the wings were good and the homemade blue cheese dressing rocked it, and they were messy but good. ­
Heading back from washing my hands, it looked like there was going to be a lady landscaper throwdown by the pool table. ­Out of nowhere a waitress showed up with a pitcher of cold beer and a whopping order of Big Mom's Lobster Mac and Cheese and the chainsaws were stashed. ­Something about hot mac and cheese and a chilled mug that settles the nerves. ­Cold beer giveth and taketh away.
O'Maddy's truly has a colorful cross section of personalities, just like the awesome city it occupies.
We finished it off European style (salad last don't you know) with a Caesar that was adequate, but any one of my foodie friends will tell you mine's better.
Two drinks each, four appetizers, excellent service and a stunning summer evening experience was $54. ­Try that at Cassis or Bella Brava and reach for that equity line when you get your bill!
Then a peaceful walk on the pier, nice people, many smiles and hellos, dog walkers, fathers and sons fishing together, beautiful sunset and Cat wooing the Blue Heron perched on the handrail to pose for a pic. ­The sound of a spinning rod fighting a hooked fish ended that photo op.
Ah, Florida! ­We'll be back to this place to escape our hectic lives again soon.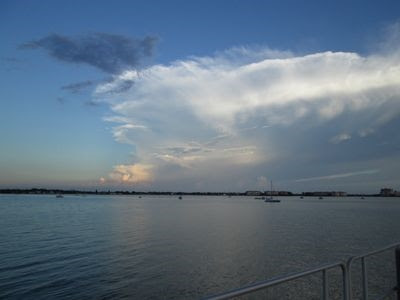 Egmont Key State Park is a bit of heaven for boaters. ­The water is Caribbean-clear turquoise and the beaches on the windward (west) side are spectacular with bright white­ sand beaches fronting ­palm trees and Florida native vegetation. ­There's also the remnants of a Spanish-American War era fort (did you know that was a 10-week war and the Spanish sued us for peace­­). ­
That campaign brought us the first of two Roosevelts as Presidents.
The Park is at the mouth of Tampa Bay southwest of Fort De Soto Park (for another day) and can only be accessed by private boat or the ferry that runs out from De Soto for a small fee. ­It also picks up up and takes you back to the mainland. ­Park closes at sunset.
Because of its location next to the broad, deep channel commercial ­tankers access ­the Port of Tampa, Egmont is also home to a pilot station. ­These stations are­ an onshore headquarters for Maritime Pilots who are required to man the visiting helms of any commercial vessels to and from Port of Tampa. ­
Very powerful boats run these Coast Pilots out to ­giant tankers, Cruise Ships and the like, a ladder is dropped to the speedboat and the Pilots climb into the vessels and take the helm. ­Can be pretty dicey on a windy day in the high seas and these guys are very specialized and well paid.
But for those of us lucky enough to have access to a power boat (I began visiting there in the early 80's on an 18-foot catamaran, so sail vessels are an option), the fun begins when you get to shore.­ You can snorkel, picnic, explore the fort and terrain, collect shells, swim and then visit the other little island just to the south towards Anna Maria where folks prefer to leave their bathing suits on their boats.
A story for another day.
There's also a scenic, working Lighthouse that was first built in 1847 because of hazardous navigation at the mouth of the ever­busier bay. ­It had a short life as the Great Gale of 1848 swamped the island and severely damaged the Lighthouse. ­Apparently the Keeper of the Lighthouse survived the storm riding it out on a rowboat tied to a palmetto. ­The next day he rowed that boat to Fort Brooke (Fort De Soto) and handed them the keys to the place.
It was replaced ­in 1858.
After the completion of Fort Dade at Egmont for the Spanish-American war, it remained an active military base for many years.­
In 1974 the U.S. Fish and Wildlife took over, handed it to the State of Florida and it became a State Park in 1989. ­The south end of the island was designated as a National Wildlife Refuge in 1974 and is closed to the public. ­
Egmont Key was added to the U.S. National Register of Historic places in December of 1978 and remains one of the prettiest destinations in west central Florida. ­
Find a way to get out there, bring lots of water and sunblock and shade, and enjoy the almost untouched Florida Spanish explorers discovered two centuries ago.
It's another great escape and worth every minute!­
Enjoy our fabulous state parks!